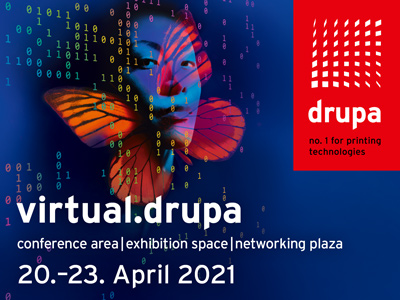 ROGLER software at virtual.drupa
From 04/20/21 to 04/23/21 we will take part in the virtual.drupa.
A virtual event is exactly the right format in these times and enables us to introduce you to new products and our new version 4.0 of the ROLGER Software Suite.
The new digital forum offers you and us some advantages. In our planned live sessions as well as directly at our virtual booth, you can find out all about our current product developments.
In recent years we have increasingly focused our development on optimizing business processes in print shops.
In our current version 4.0 of the ROGLER Software Suite you will find concentrated knowledge and experience from all branches of the printing industry. The ROGLER SOFTWARE SUITE 4.0 is the result of intensive cooperation with our customers and proven experts in the field of artificial intelligence.
Our latest development, from the fully automatic calculation to a fully automatic production workflow, will enable you to achieve maximum productivity and higher profit in the future.

You too can benefit from the experience and knowledge that we have gained together with our customers and make your print shop fit for the future
Find out in advance about our Drupa highlights:
Optimize your business processes to a continuous, fully automatic workflow: ROGLER | MIS

Automatic calculation based on artificial intelligence
How can you discover the ROGLER Software Suite 4.0 at virtual.drupa? Meet our experts online.
You can make an appointment quickly and easily on every day of virtual.drupa (April 20th, 21st, 22nd and 23rd). The entire team of ROGLER product specialists and business experts is available online at any time.

Thanks to the reinforcement by our international sales partners, we can also communicate with you in your language.
As a registered visitor, use the drupa-Matchmaking and make an appointment with one of our experts today.
In addition to the possibility of making an appointment at short notice using the matchmaking tool, we also offer you the opportunity to participate in one of our live events.

You can find out more about our live events under the following link.

We look forward to shaping the future of the printing industry together with you and wish you all the best until then and stay healthy!