ROGLER software offers you the greatest possible flexibility in planning and controlling your print shop.
ROGLER Software is not just another software system on the colorful market of MI systems for print: WE are redefining the term MIS. WE understand the letter M in MIS in addition to Management also Manufacturing and Material – that means: we communicate with machines, internal and external systems via open interfaces and thus form the control center in which all information is bundled, evaluated and distributed.
Mit ROGLER Software profitieren Sie von Anfang an. Sie starten mit einem gut vorbereiteten System ready to use. Sie lassen ROGLER Software in Ihrem lokalen IT System laufen oder wählen anstelle von Investitionen in Infrastruktur das transparente und faire Subskriptionsmodell auf Basis einer monatlichen Nutzungsgebühr SAAS. Sie erhalten nicht nur alle Updates sondern im Fall der Fälle schnell und unkompliziert Unterstützung durch unsere Service-Hotline. Das ist die Sicherheit, die Ihr Unternehmen braucht.
WHAT YOU CAN EXPECT FROM US
We show you what we have to offer
You all work in a team, hand in hand every day, the quality of your work determines the work situation of your colleagues and vice versa - you deserve optimal conditions: ROGLER software! See our solution for the business area you are in charge of
Company Management
You are a member of the executive board. – Your decisions show the way and help your company move forward: You need reliable information about the most important key figures at a glance.
Purchasing
You work in purchasing – no production without material: You need information about the current status of material requirements and material deliveries, an overview of your warehouses and upcoming orders
Project Management
You are a project manager- your expertise is important: You need a fast and secure calculation tool, information about the current status of your orders, as well as the upcoming offers and insight into the current production plan.
Sales
You are a customer service representative and salesperson – your skills and competence convince the customer: You need quick access to your customer data, the current status of your orders and the upcoming offers.
Production
You work to ensure that production runs smoothly – you need clear production instructions, insight into the current production plan, the status of the individual jobs in the departments and the condition of the machines.
Warehouse
You are responsible for the warehouse – you need an overview of the warehouse, the current material requirements and deliveries as well as an insight into the current production plan.
COMPARISON BEFORE - AFTER
Results that our customers
were able to achieve
thanks to successful optimization with ROGLER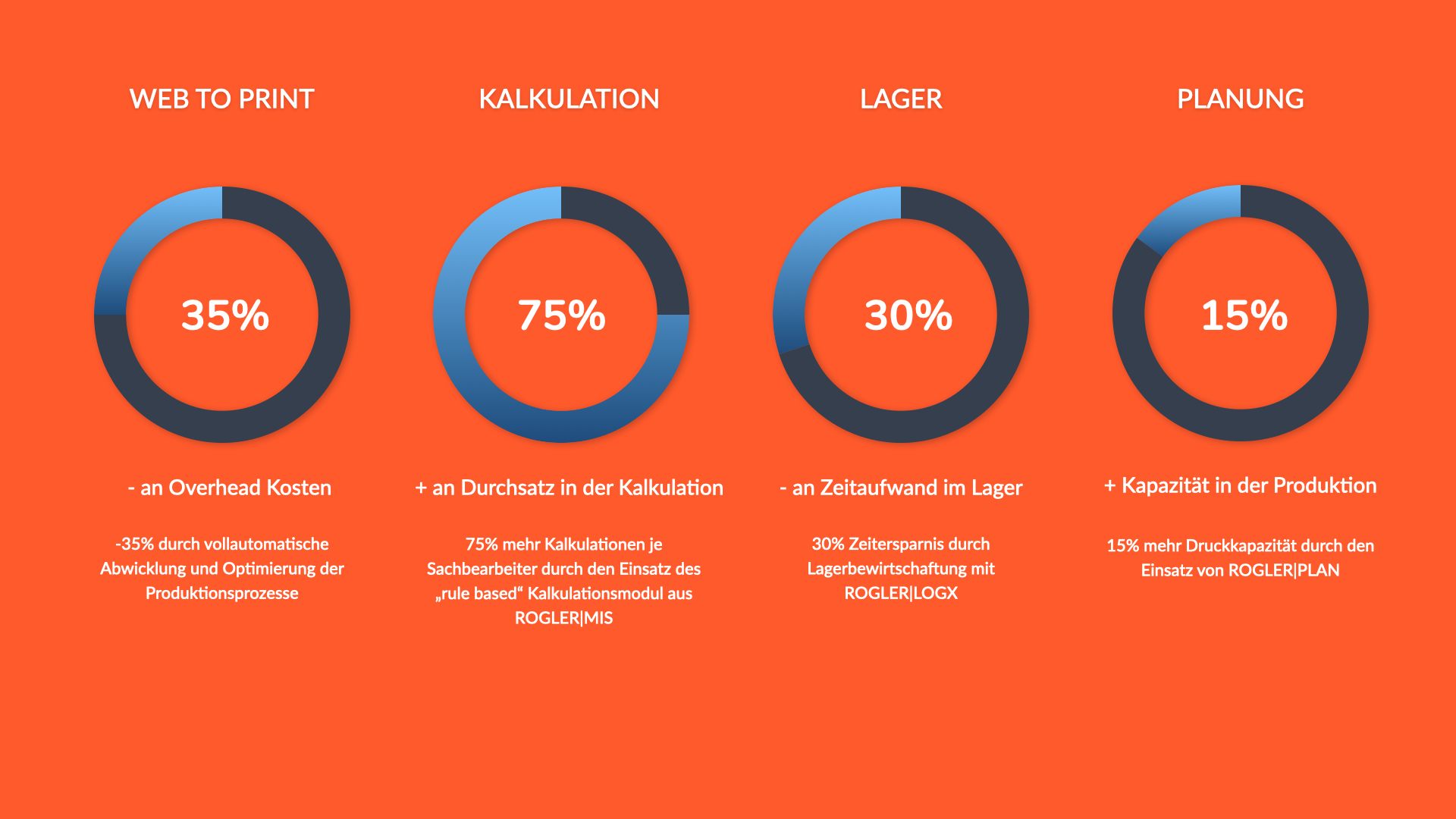 FACTS ABOUT ROGLER
ROGLER has been developing software solutions
for print and media production since 1992.
The name in the market is what makes the success of ROGLER customers.
The extensive software solution ROGLER | SOFTWARE with numerous modules and features is used internationally in different constellations. ROGLER | SOFTWARE is designed for all printing techniques and types of processing. All conceivable print products and production processes can be displayed, calculated and planned.
150
Costumers worldwide
nationally and internationally
10.000
Users
nationally and internationally
8,2 Mio
Orders annually
national wie international
800.000
Lagerplätze
nationally and internationally
10%
Fully automated warehouse
nationally and internationally
ROGLER Software Module
ROGLER Software.

Mehr Effizienz

von Anfang an.
Durch eine enge Verzahnung mit Ihrem Drucksaal erfüllt ROGLER die
Voraussetzungen für eine smarte Produktion
Die Vorteile der ROGLER Software kurz und bündig
ROGLER Software bietet Ihnen nicht nur eine einfache Bedienung, sondern auch mitdenkende Assistenten und Automatische Prozesse – damit Ihre Arbeit einfacher, angenehmer und rentabler wird
02. Offene Schnittstellen
Es ist widersinnig und teuer, Parallelstrukturen aufzubauen. Daher verfolgt ROGLER Software mit seinen multifunktionalen Systemen eine Philosophie der offenen Schnittstellen.
03. Schlanke Projekteinführung
Das Ziel schlanker Projektführung ist, einen Auftrag durch Priorisierung schlank zu halten, Kundenwünsche rasch umzusetzen und auch in späten Projektphasen noch flexibel auf Veränderungen eingehen zu können.
blog & news
Always stay up to date with
our current blog entries
News about Rogler and the printing and media industry