ROGLER | Web to Production
Optimize your production process -
from ordering to production
With ROGLER | WEB TO PRODUCTION we combine your business processes into a smart print shop workflow.
With the aim of achieving maximum productivity in all areas of your print shop
Based on artificial intelligence calculation and production optimizes your entire production process.
With our new solution ROGLER | WEB TO PRODUCTION the entire production process, from ordering to planning and production, is fully automated
Only a few situations still require manual intervention in the production process.
The automation of printing processes is more necessary today than ever. Current economic conditions in the printing industry, decreasing print runs and increased wage costs require optimization of production processes.
A fully automated production process based on artificial intelligence reduces manual points of contact in the processes, avoids human errors, especially in the case of recurring tasks, accelerates processes and simplifies their monitoring, reduces costs and ultimately also maximizes customer benefit and profit.
ExplanationWeb-to-Production
The following diagram shows a simplified illustration of how our Web-to-Production module completely automates your entire production process from ordering to planning.
The order is entered by the customer in the web shop or by your office staff via our web interface.
Via our template editor in the ROGLER | MIS, extensive rules can be defined. The entire production process for a product is defined in advance on the basis of these rules.
After the order has been placed, one of the previously defined rules is carried out and the data is sent to ROGLER | Pass PLAN.
Production is carried out fully automatically on the basis of the rules created.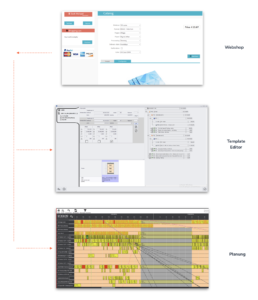 ROGLER Software Web-to-Production
The most important advantages at one glance.
Sales
Due to the simple and easy-to-understand structure, orders placed in the web shop or via the web interface can be imported immediately and viewed as a calculation. After a brief check, the project is forwarded to the planning department and planned for production based on the previously defined rules.
From the order entry to the completion of the print job, you will only need a little manual rework in the future.
Planning
Based on the previously defined rules, the best possible type of production is automatically selected. ROGLER | decides PLAN on the underlying set of rules, which machine comes into question at the start of production.
With ROGLER | PLAN we give you an intelligent planning tool that enables you to map your production process fully automatically.
The following video shows you the extensive functionality of ROGLER | PLAN.
Production
If the existing machine park with ROGLER | PLAN is connected via interfaces, changes that occur during production can be automatically included in the planning.
ROGLER | PLAN recognizes the effects that the new situation has on the entire production process and independently calculates the best production route based on the changed framework conditions.
ROGLER Software Modules
More efficiency right from the start.
We are at your disposal for further information on the individual modules.
Which module are you interested in?